26 WEEKS….WE HIT A BIG MILESTONE!!
Change of scenery in my weekly pic but I have successfully made it to 26 weeks..and I am feeling pretty great! I have been in the hospital for a week now and it hasn't been that bad. Of course I miss my family and friends but the days seem to go by pretty fast..and there always seems to be someone walking in to talk to me, which is great.
Today we did our weekly ultrasound and it was one that made me cry…a good cry. We were able to get to each baby's heart rate and successfully see how much each baby weighs. The smallest was 1 pound 8 ounces and the largest was 1 pound 13 ounces. We are very pleased, as well as the Doctor, with the sizes. I want to try to have each baby be over 2 pounds so we are on a good track….just need to get through the next two weeks for sure. The best part of the ultrasound was when we got a surprise image from Miss Riley Paige….she showed us her beautiful little profile and we got to see it in 4D! Talk about tears rolling down my face. This was the first time we got to 'see' one of their sweet little faces. Riley is the one enjoying a lot of space and is resting on the top of my belly under my ribs. All 4 other sisters are all head down in my pelvic area….but it's crazy to see how they can be head here and body/legs there…haha.
♥ Our Sweet Riley Paige ♥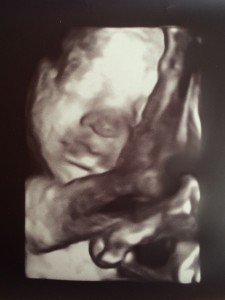 Kylie came to visit today with baby Adrian and she brought Blayke to spend the day with me…then Bryce came by to visit this afternoon … and then Adam made it here on time to be here for the ultrasound…so we had a full house today viewing the ultrasound. It was fun getting to have them all see the quints….not everyday you get to see an ultrasound of quintuplets 😉 I know Bryce knew exactly what she was looking at … haha!  Blayke was curious about what we were all looking at. She would say "what are my sisters doing in there?" hahaha….so cute.
Well I am anxiously awaiting to meet our little princess but I pray we can have them safely 'cooking' for another 4 weeks 🙂
XOXO
~D~