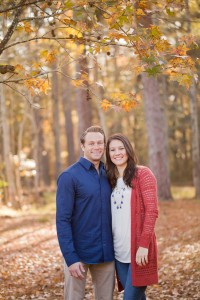 It all started way back in 2003 at one store that I think every woman is addicted to…Target! Adam and I feel in love the second our carts collided in the Oreo isle. Doesn't that sound awesome!! Target, Oreos and falling in love, what a fairy tail in my eyes. Unfortunately that's not exactly how our love story started but we did meet at Target.
After a few months of working almost side by side together at Target, Adam finally got the courage to say a few words to me. The first words out of his mouth were "hey beautiful". My thoughts at first were…'oh wow! You never talk to me and now your trying to hit on me….real smooth'. Obviously it must have worked, ha. A few weeks go by where we started eating lunch and taking our Target 15 min breaks together…(so romantic). Adam finally asked me out on a date…wait I mean begged me, lol (love my version of our story), I said yes and it was his plan to pick me up after I got off work. Part of me during my work day is thinking 'What are we gonna do? What am I gonna wear? Etc.' Work day finally ends, I go home to get ready and the phone rings, it's Adam! He basically goes on to tell me he decided to hangout with his boys. Ummmmm did he just beg me to go out with him earlier and now is ditching me…no way!!! That phone call ended quick.
At this point I'm thinking, this guy…who does he think he is, ditching me…I'm done with him. (Obviously not, ha).
I'm not quite sure what happened in between this point and next but we finally were actually going to go on a real date, dinner at Casa Mañana!  Little did I know how this first date would turn out.
Adam comes to pick me up after he gets off work, but he still needed to go home to change…  Which I didn't understand why he wanted to pick me up first, go to his house 20min away to change and then come back into city to eat.  Well off to his house we go…his parents house.  Adam never tells me anything about what's going on or that his family is home.  dWe go inside and…Adam leaves me in the living room as he goes in his bedroom to change.  Now I'm sitting in a house I don't know with his mom, dad, and sister walking in to come talk to me…to question me, ha.
After about 15 minutes Adam is dressed and we are ready to go…to go on our "first date".  As we are getting ready to leave his parents say "Adam are y'all riding with us" ??????? (What?!?!?! I'm confused! We are going on our date with your family!?!?!)
Wow! It just keeps getting better and better.
First – Adam acted way too cool to talk to me and it took you months to say a few words to me.
Second – Adam ditched me on what was supposed to be our first date.
Third – we finally are going on our first date…and Adam fails to tell me we are going out with his family for his sisters birthday dinner!
For some strange reason this Adam guy asked me "officially" to be his girlfriend later that night and wait for it….I actually said yes! Can you believe it, hahaha.
Two and half years later he asked what I wanted for my birthday and I said a necklace, bracelet or a right hand ring…and this guy ends up buying me an engagement ring. I had no idea!
He proposed the day after my birthday, Christmas Eve (what another great story that is…can you imagine lol), and I was in complete shock!
Six months later we were married (man we were so young!).
Now 8.5 years later we are still building our fairytale. ❤️