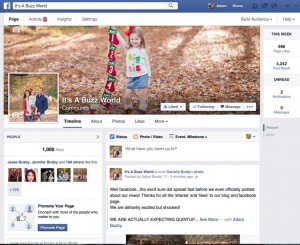 HOLY SMOKES!!! Within one day our Facebook page has reached 1000 'likes'. HOW AWESOME ARE ALL OF YOU!!!!
I love being able to blog about what is going on during this journey and I LOVE seeing and reading everyone's comments. (Can I do this as a full time job, lol.)
Though we were not the first to 'share' our blog on FB….someone special gets that credit…my Mother-in-Law / Nana. She hates surprises so much that she couldn't wait to get the blog details in her Christmas card that we mailed….we had to tell her what the site was so she could probably be the first to read it, lol. Like mother like son, Adam hates surprises too 😉   Thanks Nana, you made us go FB viral, lol. Love you!