Cooking….well…lets just say its not my favorite thing to do anymore. I used to LOVE to cook and try new recipes but a lot has changed the last few years once we became a family of eight. I actually don't think I ever had a hard time coming up with meals when it was just me, Buzz and Blayke…plus Blayke loves veggies and eats anything. But once we became a family of eight… and now have some picky eaters, making a meal is exhausting!! So many different taste buds and opinions I have to try and please.
I get asked often… like quite often… like daily… like multiple times a day (lol) "what are meals you and your family eat?" ♥ So…I have decided to create a section on our blog called "Easy Family Meals". I will be posting an Easy Family Meal (some of our family favorites) every Monday to the blog.
To find where the meals are located, look at the title bar and select "Tips from Danielle" then "Easy Family Meals".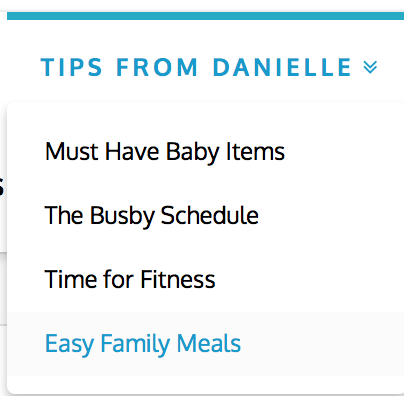 I have LOTS of easy meals to share, so I hope you give them a try and let me know if your family likes them too. Though cooking isn't that 'fun' to me anymore, I do still enjoy trying new recipes when I have the time to cook ♥
**Remember, I'm not a professional cooker, haha. Just a Mom of 6 trying to share some meals that work for us 😉 
XOXO
~D~