If you know us, you know we love to adventure! Adam and I have always enjoyed experiencing new things, and when we became a family of eight, we were determined to still 'adventure'… even with six kids. This, however, took some learning, lots of adjustments, and most of all…patience! This blog is sponsored by Visit Williamsburg, but all thoughts and opinions are my own.

We originally had planned to take this trip to Williamsburg, Virginia back in August, but we all know 2020 has been an interesting and challenging year for literally everything (due to COVID!), so we had to push our trip back several times to make sure it was safe. The best part about having to push this trip back was that it turns out we would now be going to Williamsburg during the holiday season… and YAY!! Christmas festivities!!! My favorite!
There was a lot of planning that went into place prior to taking this trip. (PLANNING is key to ANY TRIP! Prep everything before so you don't waste time on your travel wondering what you will do today). I worked closely with Visit Williamsburg to ensure all of the activities we participated in could be done safely with the kids while also following their COVID safety protocols.
We arrived on a Friday evening in December and stayed in a beautiful cottage at Kingsmill Resort, which was right on the James River. The cottage fit all ten of us perfectly in one home, and the views were absolutely beautiful. We enjoyed breakfast in the mornings at Eagles Restaurant, which was right on their golf course. The staff was amazing, and the atmosphere was so cozy and quaint.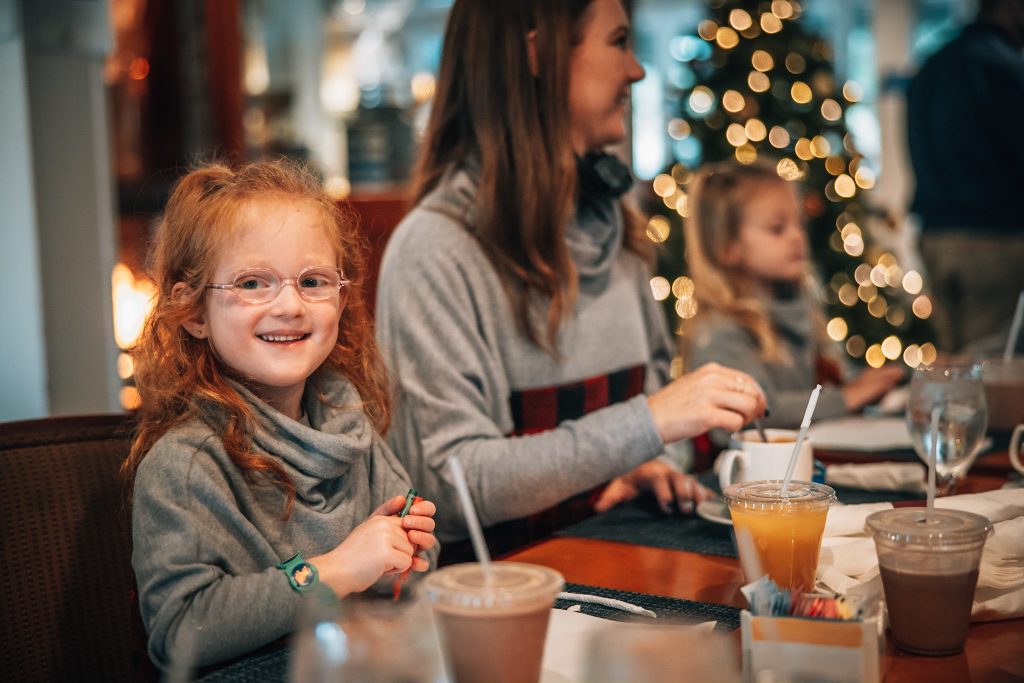 After breakfast on Saturday, we headed to historic Yorktown to stroll down Main Street and see all the historic buildings and their Mistletoe Market. What I learned immediately while visiting Williamsburg was to always be dressed to snap the perfect family photo, because EVERYWHERE you went was the perfect photo opportunity! The girls enjoyed walking through Mistletoe Market, where we saw ice sculpture carvings (which I have never seen done before!) and all kinds of animals like a silky chicken and alpacas. The weather turned out to be perfect, so for lunch, we decided to grab something to eat at the food trucks nearby Mistletoe Market. We sat down on the Riverwalk and watched the Toyland Parade with an awesome little family picnic. The girls got to see so many cute dogs all dressed up in the parade and really enjoyed the marching band.
After Yorktown, we headed to Colonial Williamsburg. We absolutely enjoyed this town. While exploring, we toured the Governor's Palace, which was stunning. It was an amazing opportunity to hear history and to SEE history in front of us. After the Governor's Palace, we walked through Merchants Square, where they had all the Christmas lights up and decorations (my favorite!). It was just so cute and Christmasy; I loved it.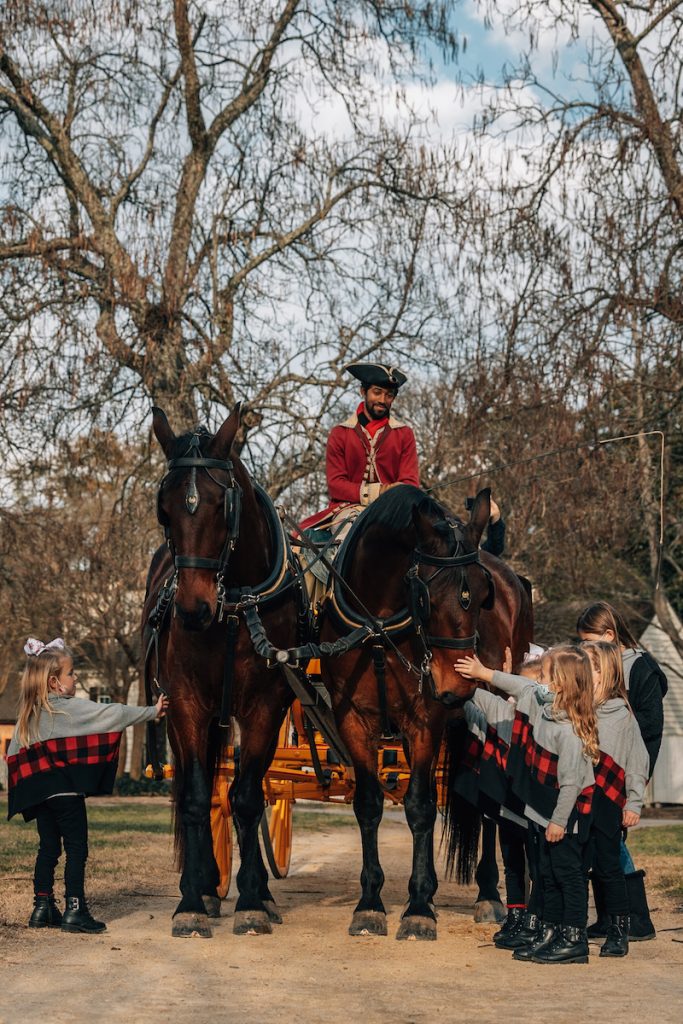 As we shopped through the little markets, we all got hot chocolate from Kilwins… which was literally the best hot chocolate I have EVER had! After some more market shopping, we went to dinner at Chowning's Tavern, where we had 'historical time' foods.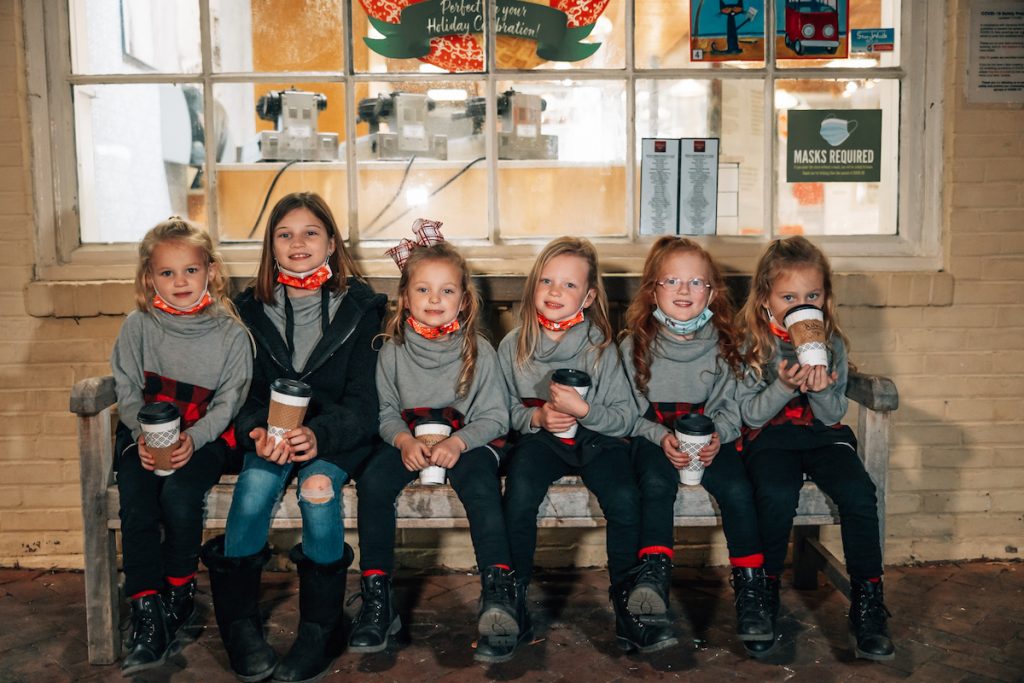 Then after dinner, there was no way we were going to pass up ice skating! The girls have only been ice skating maybe once or twice before, and when they saw the ice rink, they said, "we have to do it!" and so we did. Unfortunately, I did not participate in ice skating because my neck and back have been hurting… BUT you know the best dad ever, Adam, took all six of his girls. We reversed roles as I tried to capture photos while he got to go skate along with the girls. They had the best time ever, and this was a highlight of their trip for sure. After ice skating, we were pretty cold, so we headed back to Kingsmill Resort for the night.
The next morning came, and boy! Did we have a full day scheduled! After breakfast, we drove to Jamestown Settlement. I've always been iffy about taking our girls this young into museums… given they can't fully read anything, so it's a lot of extra work to make sure they're all focusing and telling them what's going on. What was so great about Jamestown Settlement is that it's a living history museum complete with interpreters who explain what they are doing and what things were like years ago. The girls just absolutely soaked all this in! We talked about Pocahontas, and the way she lived, we saw how they made canoes, how they cooked …We saw all kinds of stuff. It was pretty interesting seeing the questions arise from the girls and all the thoughts trying to roll through their heads like, "they couldn't just go to the pantry for a snack if they were hungry?"While at Jamestown Settlement, we also went on the ships and learned all about the first colonial people to come to America. We learned that this ship is a recreation of the one settlers used and actually goes out in the water to this day. We saw where everybody slept and where all 60+ people fit. We probably could have stayed at Jamestown Settlement all day! There was so much good stuff to see and learn, and it was very interactive for the kids.
After Jamestown Settlement, we headed to Amber Ox Public House for lunch, which was an amazing farm to table restaurant. I recommend their biscuit board and the stuffed French toast!
We enjoyed a lot of yummy foods, and on our way out, we strolled through their little market before we headed out to another fun adventure, ZIP LINING. Next stop, GO APE Treetop Adventure!
Our girls had never done this kind of zip lining and ropes course before. They've done one that was about 5 feet off the ground, but this one was legit 20 feet in the air! All our girls wanted to participate, and it was such a 'proud mom and dad moment' seeing our girls be a little bit scared but SO excited to try a new activity! Just to see their faces and imagine what was going through their minds was another highlight of our trip! We saw our girls overcome something that was 'scary' but something they want to do… so they pushed through to do it!! SO proud of MY GIRLS!!!
Go Ape had three different ropes course that was appropriate for our girls' height. All the girls did the ropes course and zip line! Me and Hazel only did the first one, but Adam and all the other girls did all three courses. It was super fun to see how big my girls are getting and watching them participate in a "big girl activity." I highly recommend this as a place to stop and visit!
After a couple hours of zip lining, we needed to head back to Kingsmill Resort for a little bit of downtime because our plans for that night were to visit Busch Gardens for their Christmas Celebration.
After some downtime at our resort, we freshened up, changed our clothes, and headed to Busch Gardens' Christmas Celebration. The park was all decorated with Christmas lights, had several performances for everyone to get a feel of the holiday season, AND then we rode tons of kid-friendly rides that made our last evening in Williamsburg an absolute blast!

XO~D~