Today is Mother's Day….and I am always in awe over this day. A special day I get to celebrate for being a Mom…. A MOM! I don't take this day lightly. I feel extremely and overly blessed with the responsibility the Lord has given me to be a Mom to six little girls. This day always takes me back down memory lane….
When I was a kid to always making hand made cards for my Mom, my Grandma and every other Mom that was going to be around that day…
To growing older, having a huge heart for kids to one day hope I would be a Mom…
To then getting married and trying to plan a family … and find out we could not have kids…and every Mothers Day that approached just killed me…a day I longed for that I never thought I would ever be able to celebrate… trying to enjoy the special day when I was feeling so much pain during this season…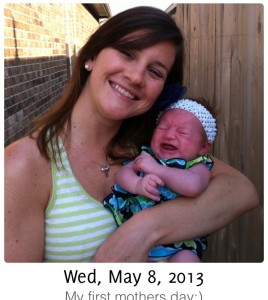 To years later (2011) Gods perfect timing came and blessed me with a daughter, Blayke…tears of joy!  Blayke was 1 month old when I got to celebrate my FIRST Mothers Day and I will never forget this day….(LOL) a day Blayke just screamed all day and nothing made her happy! BUT it was AMAZING!!! I remember crying this day just because I actually got to celebrate this day… even with a screaming baby..it meant the world to me.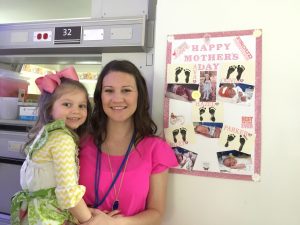 TO THEN…years later (2015)…we prayed for a sibling for Blayke and God SURPRISED us with all girl quintuplets! (still shocks me today I have 6 kids lol). My first Mothers Day as a Mom of 6 was spent in the NICU. The quints were only a month old. Adam, Blayke and I went to church and then spent the whole day in the NICU. It was hard…hard to spend that time in the NICU,  having to split my time with each of them and not even get to really hold them…but my heart was SO FULL! 2015 The Lord blessed me with this life and I take every moment I can praise him for this blessing.
Today – Mothers Day – has a real meaning to me… I only celebrate this day because the Lord chose me to be this Mom of six daughters. So today, as a Mom, I choose to spend this day as a family and love on each & every one of my girls. For our days are short on this earth, so take advantage of every hug & kiss you can give each child! Tell each of them you love them tremendously!  And tell them how special they are to you! For God chose you to be the Mom you are today…so praise Him and embrace the Day.
Dear Lord, Thank you for your love. Thank you for loving and trusting me enough to be a Mom to six little girls.  I pray for grace, patience, guidance and obedience to be the mom you have called me to be.
 I thank you for this day, and every day that follows. Amen.
I just love Mother's Day! XOXO ~D~